Being American in the Time of Covid
Are you hanging in there, dear readers?
What a week it has been. I feel like I have new wrinkles from the past few days' headlines alone. As much as it would be a wonderful respite from the chaos to tell you about my time in school so far, it feels irresponsible to ignore what's unfolding right now in America.
My apartment here on campus is wonderfully global, its residents stretching three continents, with no one from the same country. But one thing has been true of all of my new neighbors: when I introduce myself as American, there's a look of pity. In one instance, even a slight recoil.
Don't worry—we're all friendly now. And I can't fault their reaction. The American government's mishandling of Covid-19 is not just a source of national ire but true, global embarrassment. I know there are friends and family reading this newsletter that will disagree with that statement. But this should not be a point of political contention. Public health should not be a partisan endeavor. Nonetheless, I have the receipts: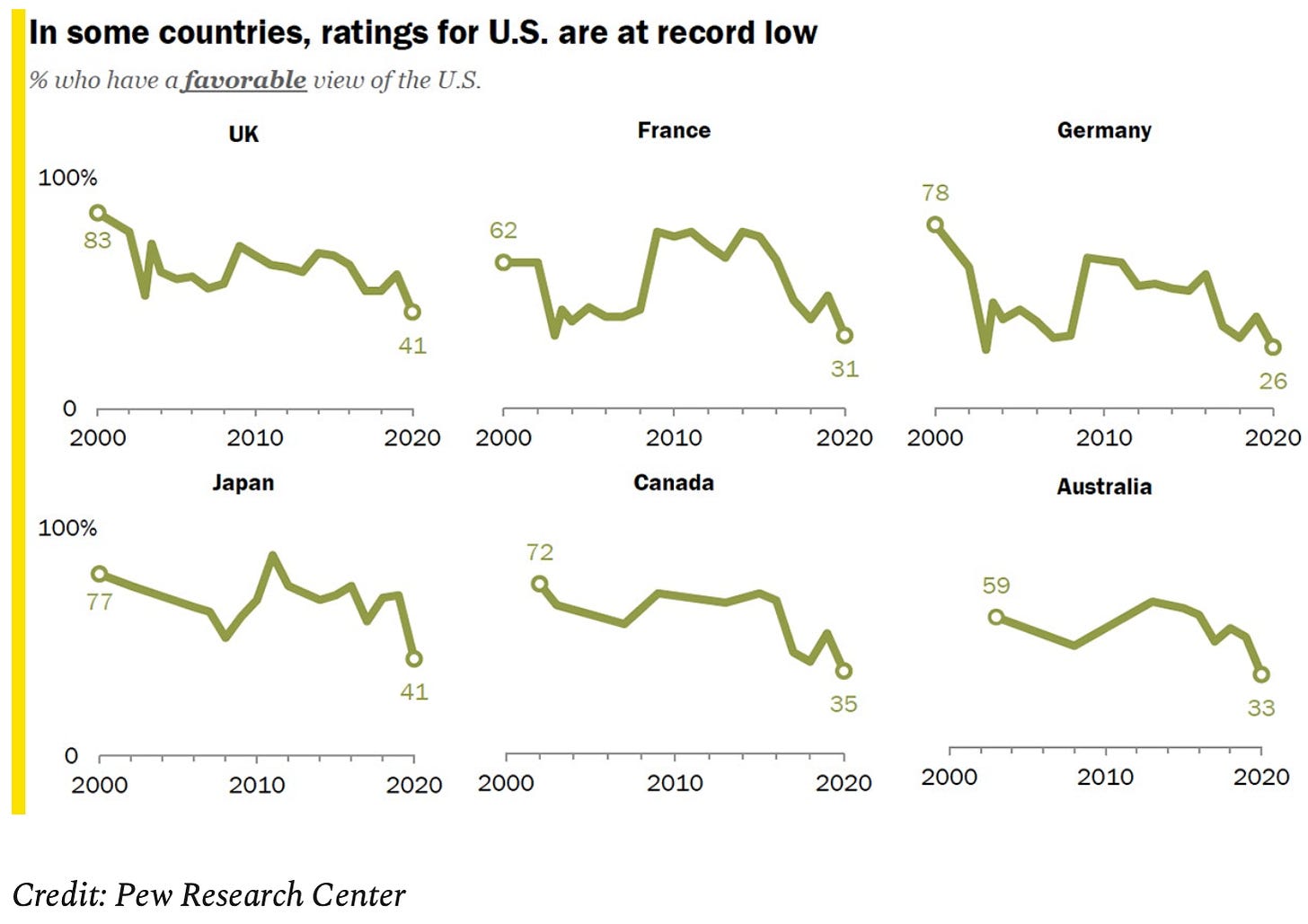 (H/T to Hunter Schwarz's great Yello newsletter)
If you're reading this, looking to find fault with the above, ready to say "Europe has always hated Americans!"—a) that's factually incorrect according to the above data, b) this poor approval of America extends across countries that are more liberal, but also here in the UK, where they have their own, more British version of a Conservative with a Bad Haircut as their national leader.
I feel ashamed when I look at these graphs, just as I feel a bizarre need to apologize for my country's utter failure on managing this pandemic. The President had the racist gall to call it the "China Virus"… at least, until he himself became infected. This, even when our own handling of the pandemic pales in comparison to nations all across Asia, from South Korea to Vietnam. The President's words matter: there were over 2,100 hate crimes against Asian-Americans reported during this past spring alone. And how we're seen by the world matters too. I can tell you with first-hand experience: right now, we're seen with pity.
That can change.
I have been proud of this country in my lifetime, although—if I'm honest—not as many times as I'd like. I can remember feeling proud on November 4, 2008 and on June 26, 2015. But even in our darker moments, this is the country that made famous Alcott, Faulkner and Steinbeck; that gave us Frank Ocean, Beyoncé, and Philip Glass; where we cried watching Moonlight, obsessed over Lost, gleefully enjoyed Crazy Rich Asians. We must remember this and celebrate it, no matter what.
It feels like we're at our low-point. I am almost afraid to write that because it most certainly can get worse. It very likely could. But I want to have hope—hope that we'll exemplify decency, rather than hollow bravura. I need to believe we can emerge from this and improve, not just on the last four years, but on our entire history. That we can right long-standing wrongs and inequalities. That we might come together as a community, with genuine care for our neighbors. I think we can, even if I don't think it will be easy.
I'll ask a simple favor. In the coming weeks, as you fill in your mail-in ballot or head to your local polling place, ask yourself a question: wouldn't it feel good to be better again?
---
What I'm reading: I've been wading through an onslaught of reading for my postgrad program. The best so far has been Bluets by Maggie Nelson.
What I'm watching: For the first time in recent memory, I did not watch anything this week… which means I'm tragically behind on The Great British Bake-Off.
Until next week,
Phil